Update on Britta
Who remembers where they were one year ago? You'd probably assume, being February, it was likely chilly, probably a bit dreary. For Save-A-Pet, and Britta, it was a day we will never forget. Because one year ago, one of our Humane Investigators went out into frigid temperatures (which were dipping into single digits and below zero for a week and counting) and found Britta, alone, in a dirty, unheated shed, with a makeshift collar embedded in her neck. Believe it or not, this was one of the best moments of Britta's life, as she was relinquished into Save-A-Pet's care, loaded up into a heated car, and started on her road to recovery. She had NO idea how drastically her life was about to change.
One year ago, Britta's life turned around. Her wounds were treated, her cold and hungry body was finally warmed and fed, and she felt true love and patience from her rescuers and caregivers at Save-A-Pet. She learned how to walk on a harness, how to brave the scary tile floors, and how to give the sweetest looks for a couple of extra treats during her medical treatments. With the help and support of Save-A-Pet's Animal Health Staff, Canine Care Staff, and adoption counselors, a foster home was found for Britta so she could continue her journey of emotional and physical healing in a home environment. Her foster continued to provide the love and safety that Britta had never known before, and Save-A-Pet was always close by monitoring Britta's healing process with routine check-ups and any additional medical care she required.
So where is Britta now?
That wonderful foster turned into Britta's forever home when she was officially adopted! She is certainly no longer spending her days in a cold, dirty shed, as she is soaking up all the love from her favorite spot on the recliner, and playing with her canine sister. She loves to make her mom laugh with her goofy personality that can now truly shine. She also loves to spend time training and learning new skills with her mom.
On Britta's one-year rescue anniversary, we ask that you honor her incredible journey by making a gift to Save-A-Pet. Our Humane Investigation Team continues to respond to calls about animals in need, and your support allows us the ability to care for any future Britta's that might be out there, still waiting for the day that Save-A-Pet can change their life forever. While heartbreaking situations like Britta's will continue to occur, your gift will help ensure that we are able to save animals like Britta and get them the care they so desperately need. Click HERE to make your gift today.
You can also click here: https://bit.ly/3HnAMFa
Happy Tears
Our sweet, brave girl who has discovered so much happiness and confidence in just a matter of days, will be continuing her journey in the comfort of a home and with the love of a new mom. A mom that knows about her past, but won't let that define her future. Britta is going to be so loved every day, just as we promised her when our Humane Investigator first laid eyes upon her.
From the moment Britta was rescued, she became a member of the Save-A-Pet family. Our staff treated her wounds, fed her tired body, and most importantly, poured their hearts into her care. And she repaid them with lovable leans, unexpected sweet kisses, and most importantly, ever increasing excitement and joy. While we will miss spending time with our sweet, goofy friend, the goal is to always say goodbye – letting a family take over, and doing it all over again for the next animal that needs us.
Britta still has some healing to do in her foster home, and we look forward to hearing and sharing updates as they come along. We thank you all so much for the love and support you've sent her way. Your donations help us to fulfill our mission to rescue, heal, and care for Britta, her fellow residents still awaiting a home, and future Britta's to come. Please share her incredible story, and continue to support our live-saving work in her honor: https://bit.ly/3dIqp2J.
Look What I Can Do!
Who said tile floors are scary? You may remember that our staff had to line up rugs along the floor so Britta wouldn't be too afraid to go outside. Well, during each trip she walked with a bit more confidence, and little-by-little, staff started slowly removing one rug at a time. Take a peek at the video to see her not only unafraid, but entirely excited to be headed across the floors on her way for a walk!
Walks aren't the only part of Britta's day that has been getting more fun. Not only has she discovered the joy of toys, but she has also decided that toys can be ANYTHING! One of our staff members couldn't believe her eyes when she caught Britta playfully chasing with her own tail in her room. But for Britta, the MOST fun happens spending time with a friend. While she was recently getting her daily medication for her neck, she decided it was all too serious. So sneaky, goofy Britta grabbed the jar of treats right out from under her Animal Health friend and led her on a playful game of keep-away.
Britta is truly an inspiration to appreciate the beauty and joy in everyday moments. Her clumsy and careless leaps in the air, her sweet kisses and loving leans, and the sparkle in her eyes that began as a glimmer now shines bright every day. Britta's journey is far from over, and we can't wait to share more of her "firsts" with all of you!
Cleaning up… and letting loose!
Sweet Britta has had so many big moments in such a short amount of time. The photos of Britta's former living conditions are unforgettable, but for our amazing Humane Investigator who drove her to safety, she will always remember the smell. Britta not only lived in a dirty, cramped space, but she also wasn't feeling her best, and her body was fighting infection in her wounds. So after her initial, urgent treatment at the vet, she continues to have regular cleaning of her wounds by our Animal Health staff. Britta's daily medical treatments include antibiotics to fight infection, and regular cleaning of her wounds, followed by medicated ointment. She is healing so much, each and every day!
Her wounds weren't the only thing needing some attention. So Britta also got her very first bath. Her little spa day with our staff seemed to literally wash away a bit of her past. After the warm, clean water, the gentle-smelling soap, and a soft towel-dry, we swear she sat up just a little bit taller. Just a little more confident. But then, we saw it. THE POST-BATH ZOOMIES. Sitting sweetly on her soft, pink blanket and letting out a smile, she caught a glimpse of her new green toy, which she hadn't paid any attention to before. And next thing we knew, she leaped up in the air, ran over to it, and started having a blast!
This incredible video captured the puppy inside her that has been waiting to come out and let loose. Britta seems ready to make up for lost time. And we can't wait to help her discover all the amazing things that make life just, unforgettable, in all the RIGHT ways.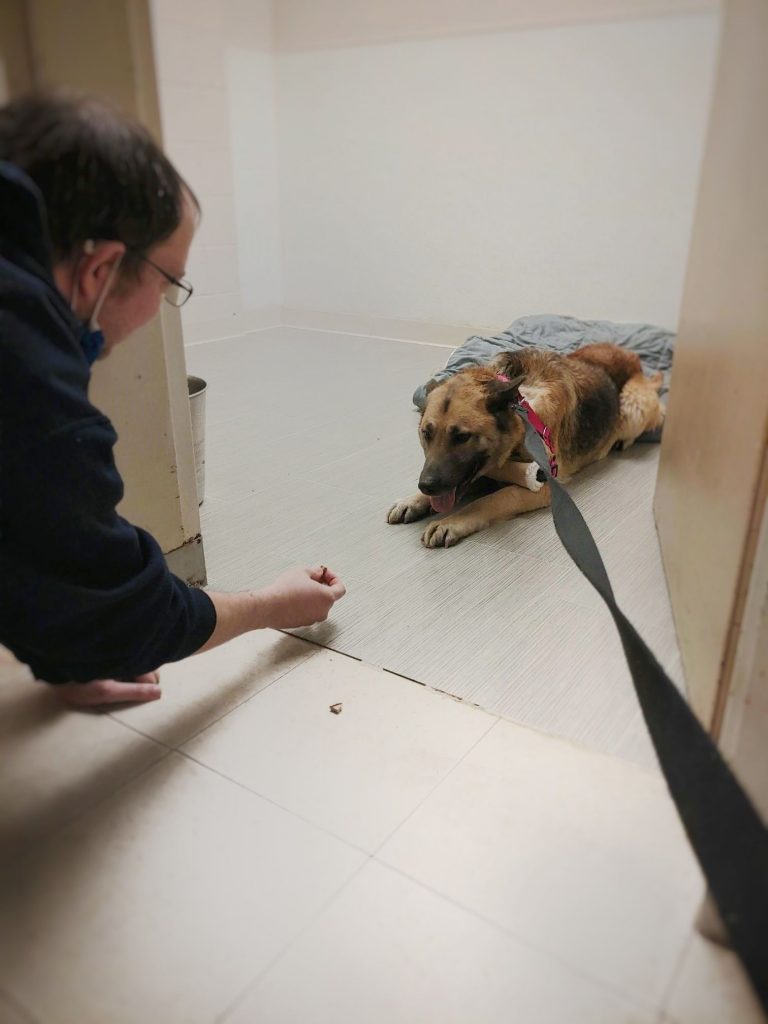 Baby Steps…
One small step for Britta… When you've spent most of your life in a tiny shed with an uncertain future, what might appear to be the smallest tasks can feel like the biggest obstacles. So for Britta, wearing a harness, walking on a leash, and stepping across a tile floor have proved to be daunting. Our staff have been giving her all the time, patience, and love she needs (and sure, a couple of treats don't hurt too), and look at her go! Staff also created a special cushioned harness for Britta since she is unable to wear a collar due to the injuries on her neck. The extra soft padding helps to make sure that any pull or movement will keep her healing on track and not cause any pain during her daily walks outside.
In addition to healing her physical wounds, Britta has lots of help to build up her confidence too. A crafty path of rugs across the scary tile floor and lots of encouragement is just what she needed to help her find the courage for a trip outside. She has also learned that every venture outside ends back in her safe, warm, and cozy room. And some snuggles from her new friends too. Boy, does she love to give thankful kisses and curl up on her soft blankets! Keep it up brave girl, you can do this!
(Wednesday 2/24) Leaving the Past Behind…
A few days ago, one of our committed Humane Investigators, along with police officers, braved the extreme cold conditions when we received a call about a dog in distress. Upon her initial investigation, she found a malnourished, cold, and neglected dog in a shed in the backyard. This shed was not heated, it was dirty, it was cramped, and it was filled with debris and feces. Worse even still, this poor girl had a makeshift collar around her neck, created using electrical wire and rope. The owner relinquished this dog to our Humane Investigator, who drove her to Mundelein Animal Hospital to receive the immediate medical attention she needed.
Once she arrived, the veterinarians got straight to work removing the electrical cord from around her neck, which had become deeply embedded in her skin. It is thought that this was put around her neck when she was younger, and never adjusted to her growing size. The vets determined that she is a one-and-a-half-year-old German Shepherd, and she weighed only 45 lbs! To put this into perspective, a dog her size should weigh closer to 70-75 lbs.
After Britta's urgent procedure was completed, she arrived to Save-A-Pet to heal and to continue to be cared for by our amazing staff.  Despite her living conditions and medical needs, Britta (as she was lovingly renamed) had a hopeful spirit and amazed our staff with the trust she put into our hands.
We will keep you all updated on our Facebook page and website on Britta's journey to health, and eventually to her forever home. We continue to work with local authorities while we focus on Britta's recovery and bright future. We kindly ask that donations be made in honor of Britta, so we can continue to provide the love and care for neglected animals like herself in, and around our community. Donations can be made on our website here: https://bit.ly/3dIqp2J.